Impressed with the performance of Supercell in the Bloomberg series on Finnish companies introduced in our recent blog post, we have been doing secondary into Finnish game industry. The industry, as still small as characterized by a large number of start-up companies and employing around 3000 employees, has been considered the hottest growth sector in the technology industry in recent years[i]. There has been a lot of milestones to cheer in the industry, from the huge success of Angry Bird since its release in 2009[ii] to large acquisition that gains wide public attention such as the acquisition of Supercell by Tencent.[iii] Recently, news on Netflix's acquisition of NextGames also proves the attraction of Finnish game industry to the world.[iv]
In this post, we would like to present our findings of Finnish gaming industry in figures, varying from recent M&A activities to employment opportunities in the industry. We hope that this post would bring about interesting information for VPF's friends, who are either seeking job opportunities or exploring any investment or employment potentials or merely interested in this small yet highly potential industries.
Also, if you have any idea or interest in any specific industry or companies or career paths in Finland, feel free to contact our team for collaboration.
---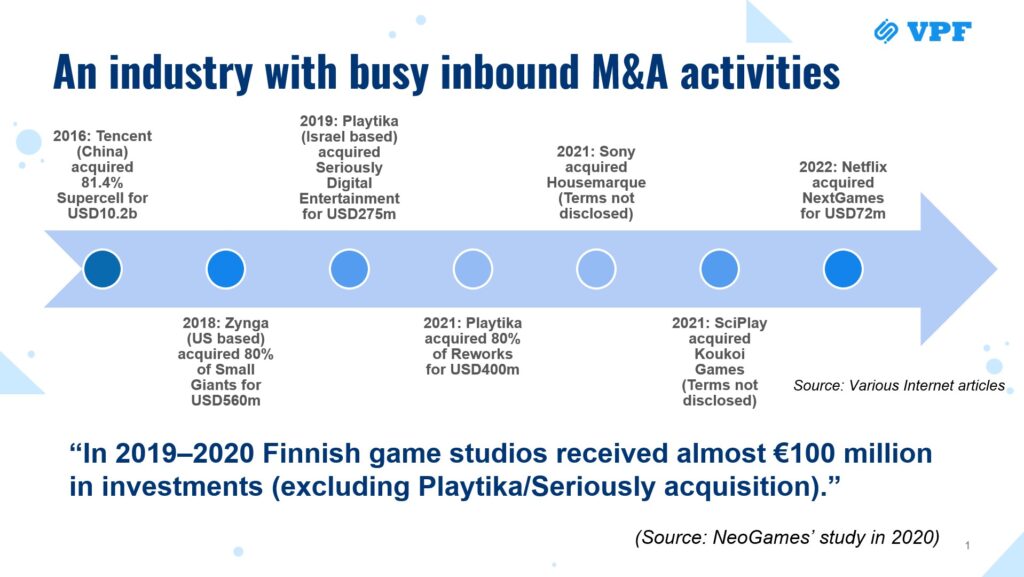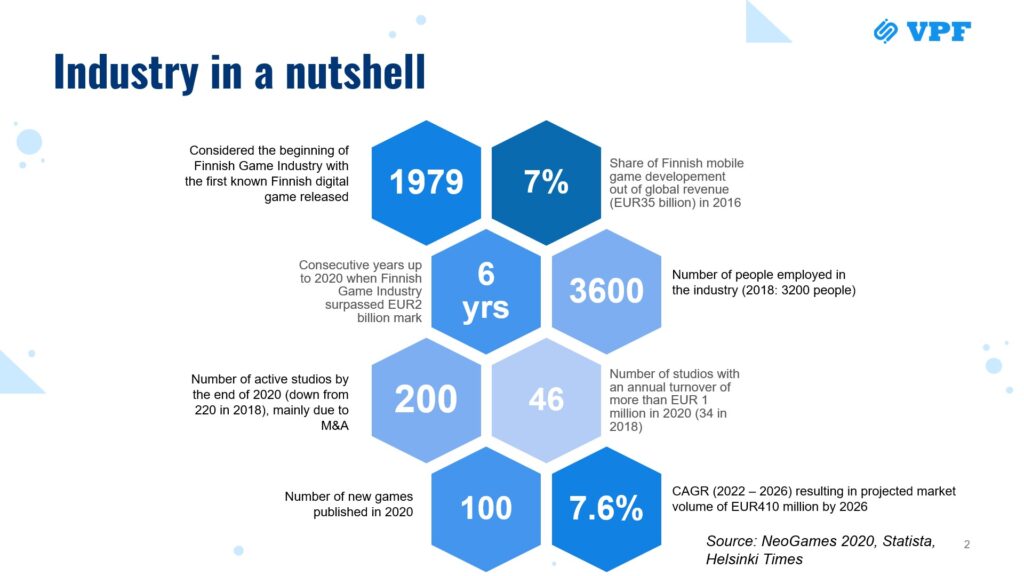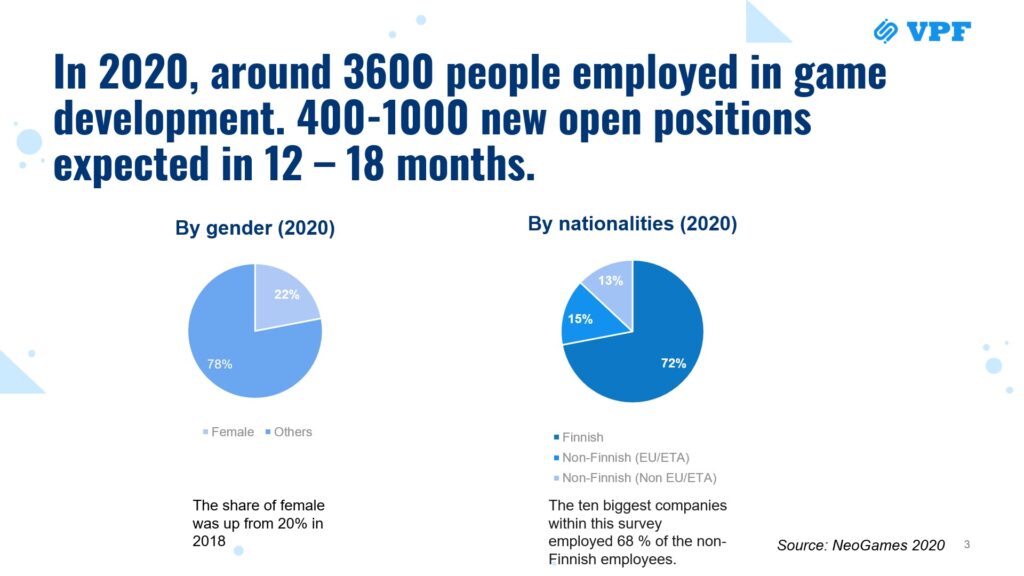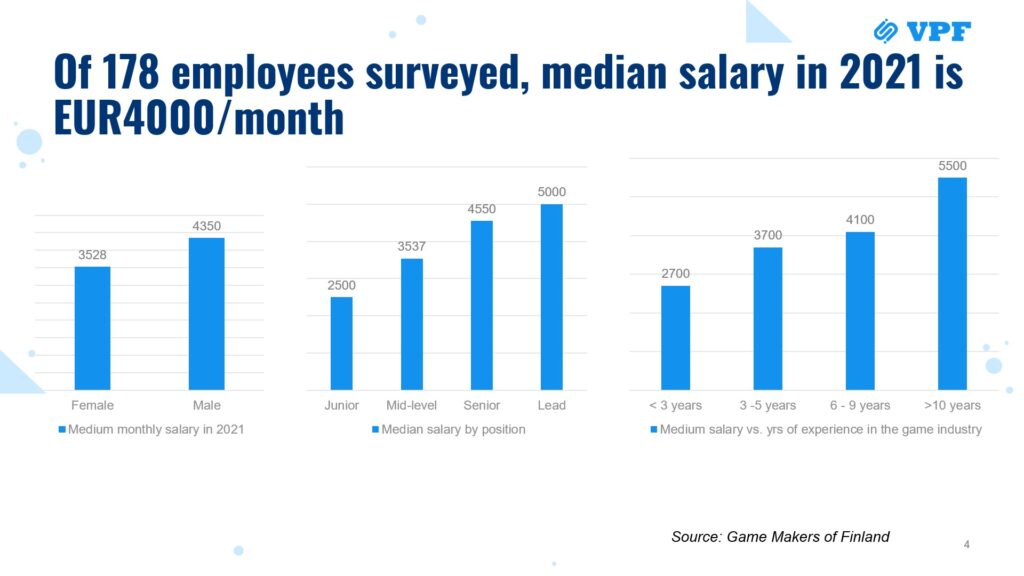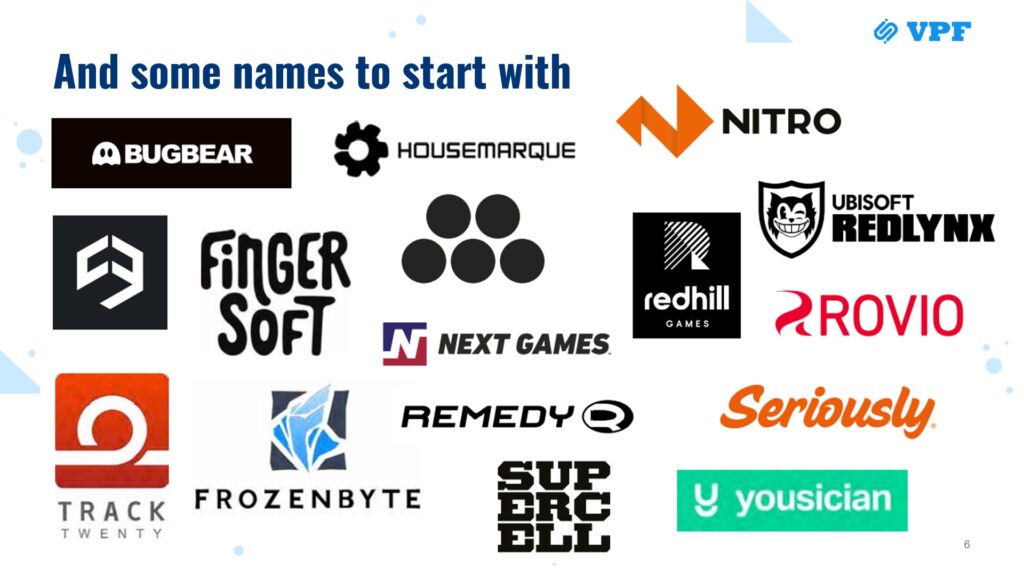 Summarised and presented by Giang Le
[i] Technology Industry – Takoma
[ii] https://failurebeforesuccess.com/rovio/
[iii] https://www.reuters.com/article/us-supercell-m-a-tencent-holdings-idUSKCN0Z716E
[iv] https://www.ft.com/content/2339f6ae-fb26-4a32-981b-492e2e984f3b
Other sources:
https://www.afr.com/technology/asx-game-developer-animoca-brands-acquires-finlands-ticbits-for-54-million-20160630-gpv3xs
https://www.forbes.com/sites/mattperez/2019/10/23/tencent-buys-majority-stake-in-clash-of-clans-developer-supercell/?sh=9c70d881c39b
https://www.gamesindustry.biz/articles/2019-08-27-playtika-acquires-best-fiends-developer-seriously
https://techcrunch.com/2022/03/02/netflix-acquires-next-games-in-finland-publisher-of-stranger-things-and-walking-dead-games-for-72m/
https://www.theverge.com/2021/6/29/22555358/sony-housemarque-returnal-developer-acquisition-bluepoint
https://investor.zynga.com/news-releases/news-release-details/zynga-enters-agreement-acquire-small-giant-games-creator-hit https://www.gamesindustry.biz/articles/2018-09-05-playstack-acquires-hisome
https://www.statista.com/outlook/dmo/digital-media/video-games/finland
https://neogames.fi/finnish-game-industry-report-2020/