We are living in a 4.0 technology-driven world, so whether we like it or not we have to be ready to embrace the next wave of the industrial revolution.
For certain jobs, technology will replace them with robots and automation, and it's currently happening now in the Automobile factories where blue-collar workers are being replaced by robots. However, there is always a demand for jobs that requires an understanding of specific tech areas such as SAP ERP consultants or Software developers. For Finland, 380 SAP-related jobs could be found on Linkedin, so there is quite a huge demand in the current labor market. By foreseeing the trend, this article was introduced, hopefully providing you with a basic understanding of SAP consulting through the interviews with two passionate and bold SAP consultants: Tuyen Nguyen and Hoa Chung from Bosch. With years of consulting experience and unique perspectives, our two experts give insightful answers to the most asked questions about SAP consulting below.
What is SAP?
SAP is a centralized data management, and helps corporations better manage complex business processes by giving employees of different departments easy access to real-time insights across the enterprise. Therefore, businesses can enhance operational efficiency, productivity, and improve customer experiences. Hoa Chung
What is an SAP consultant?
SAP consulting is a job that requires an in-depth understanding of SAP and consulting skills. An SAP consultant develops and implements SAP systems for business clients. They determine clients' business needs, create customized SAP solutions, and smoothly integrate SAP applications with existing IT infrastructure. Tuyen Nguyen
What are the main SAP project types?
There are 4 types of SAP projects:
Implementation: The company wants to implement SAP Solution for the first time.
Support: After implementation of the SAP solution, customer/business needs the assistance of consultants in their day-to-day business operations using SAP software. The end user raises their concerns, issues, and errors through a ticket handling tool.
Roll-out: Company has upgraded/ implemented SAP and wants to roll out country-specific changes in different countries.
Up-gradation: Customers are moving from the older versions to new versions. It is called SAP Upgrade Projects. For example, a company upgrades from older versions like SAP ECC to SAP S4/ Hana.
Based on the demand of the user at a specific time, they will choose the right project type to start.
Tuyen Nguyen & Hoa Chung
What is the most challenging part of the implementation project?
Well, I guess it's about the communication between the SAP consultant and business clients. Typically, you will work side by side with their management team to design a fully functional SAP system for their firms. The problem is that they are the key experts in their business, so if we don't know anything about their business, we might not be able to provide consulting. However, it's recommended to gain an understanding of their business and move forward from there. Tuyen Nguyen
Why do you want to work for Bosch? What is your journey to get an SAP job at Bosch?
Bosch is genuinely committed to a diverse representation. The company has considerable demographic diversity, which is also integrated throughout the organization, at all levels. That fits my working environment expectation.
The fresher program at Bosch provides detailed training and gives me the time to shadow my mentor. It really helps me on the very first day of being a full-time employee after graduation.
More than that, Bosch comes with valuable employee benefits. Besides employers' liability (Compulsory Insurance), Bosch benefits include Private health insurance and Wellness packages (Yoga and Aerobic).
Training and development matter a lot at Bosch. The company always encourages employees to take courses to develop their skills and has many awards for development activities.
Hoa Chung
What are qualities of the successful SAP consultants?
An SAP consultant has to have a real enthusiasm for the work. It could be measured by the number of successful projects ready to go live or a better system for users. To me, this is the success of an SAP consultant. Tuyen Nguyen
Strong teacher and willing to teach others. As an SAP consultant, you will inevitably spend time teaching users about SAP solutions. For example, to download reports from SAP, users may also need help with using the report in MS Excel. Patience and a desire to teach are crucial. Hoa Chung
What advice would you give to young fresh graduates with no working experience, who want to break into an SAP career?
Practice your communication skills. As a consultant, you usually work with the customer without much knowledge about the system, so you must express your idea in the simplest way to understand. Customers only believe you when they understand what you are saying and realize the benefit of implementing the system. Hoa Chung
Want to connect with our experts and author on the topic for more information? Check out their bios below: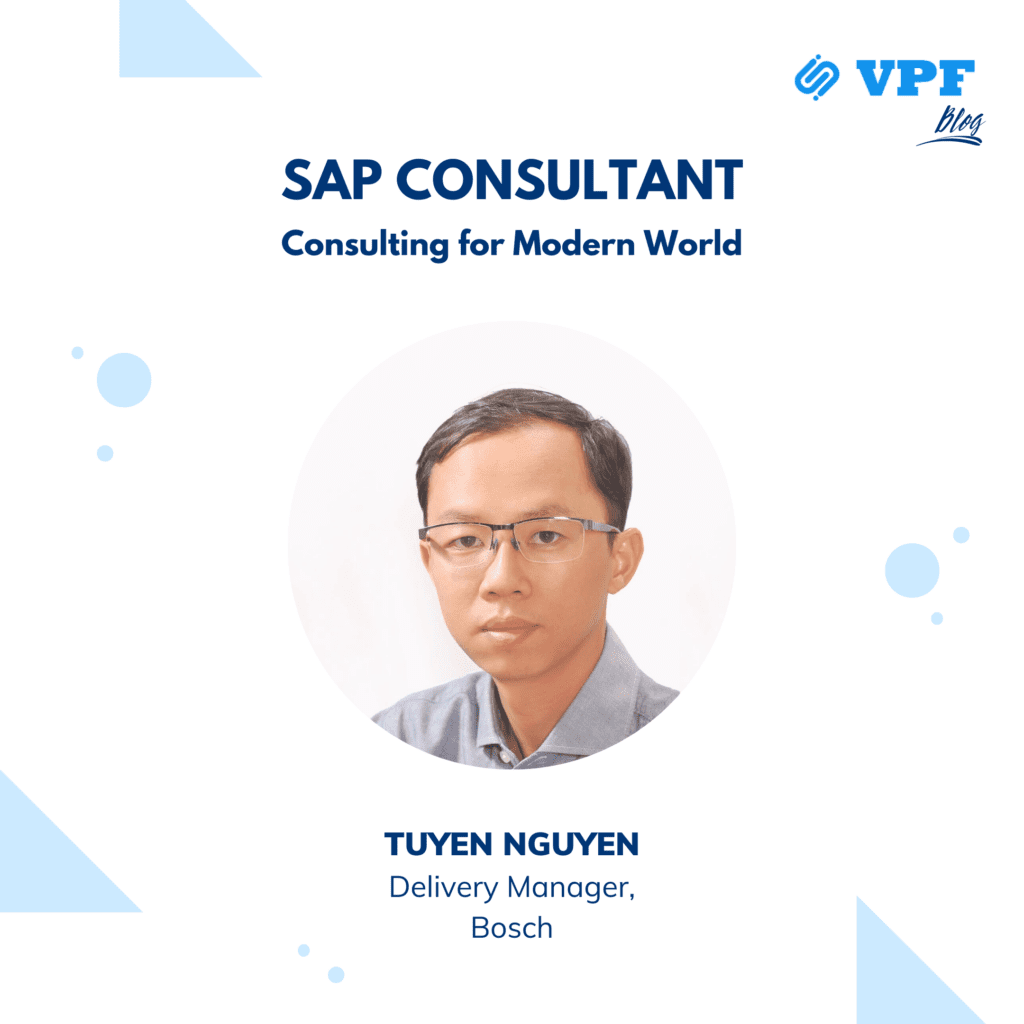 Tuyen Nguyen, strategic and result-oriented SAP leader with 12 years of experience in SAP Consulting, SAP Delivery Manager at Bosch Global Software Vietnam.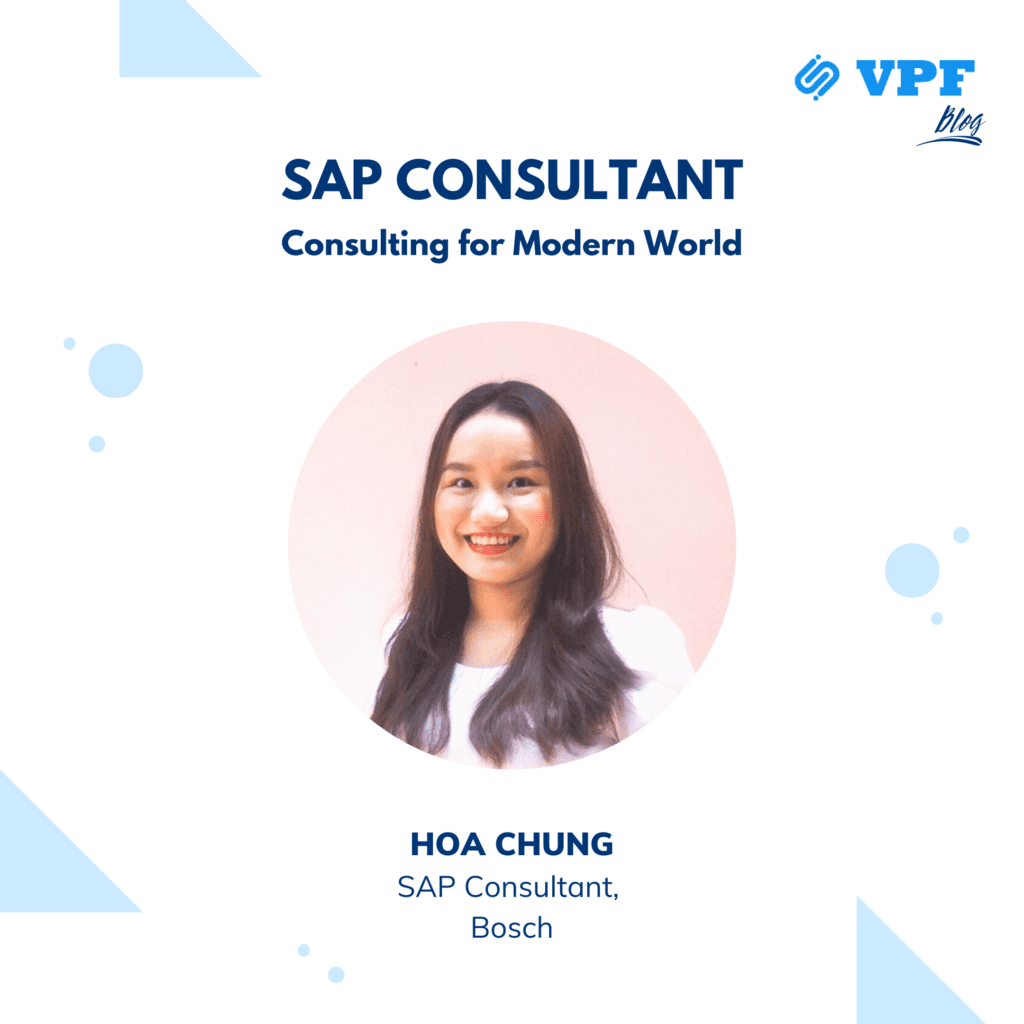 Hoa Chung, University of Economics and Law (VNU) in International Business, Associate SAP Consultant at Bosch Global Software Vietnam
Huy La, Author of "SAP Consultant – Consulting for Modern World", Karelia UAS Undergraduate in Finance, Sales Assistant at Redkik Europe & APAC.