On Saturday afternoon 22 October 2022, VPF came back with the second online event since May with the topic Consulting as a career Vol. 2: Different tracks, different opportunities. In this event, we welcomed four guest speakers with extensive consulting experience in different tracks: strategy/management consulting, IT consulting and accounting consulting services in M&A:
Giao Le, Group Strategy Lead at Nordcloud, an IBM Company. Giao is also the moderator for the panel discussion in our event.

Thuy Le, Associate Manager at August Associates;

My Vo, Senior Associate, Accounting consulting services at PwC Finland; and

Michelle Ngan Lam, Senior Solution Consultant at ServiceNow.
Content highlights
We had 2-hour informative sharing and discussion about the consulting career between our experienced guest speakers and more than 130 participants who joined us till the end of the event. Our event was divided into three sections: 
Overview of the consulting industry, different tracks and career opportunities;

Insiders' views on the type of work, required skills and career paths in each track; and

Q&A and panel discussion.
Giao Le's introduction – Moderator
Our event starts with Giao's sharing of her career stories as well as a brief introduction to consulting. Giao has more than 8 years of work experience in strategy, management consulting and business building in Singapore, Vietnam and Finland. Prior to her current position at Nordcloud, she had been working as Research Analyst in McKinsey & Company, Hanoi office and Reddal, a Helsinki-based consulting company. Holding a bachelor's degree in Operations Management and Finance from Singapore Management University in 2011, she reminisced about her encounter with McKinsey & Company more than 10 years ago as a serendipity that brought her to consulting industry with multiple possibilities. 
Overview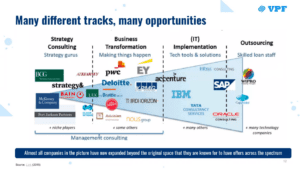 Giao explained to us how consulting firms could be loosely categorized in terms of the offerings that they are widely known for. Giao also stressed that this chart is not an exclusive and comprehensive presentation of the whole consulting industry as most of the companies in the chart have now expanded beyond their traditional market and provided more and more services that may overlap with companies in another column. For example, PwC has acquired Strategy& and EY has acquired Parthenon in attempt to compete with top-notch strategy houses like MBB. Also the more we go to the right-hand side of the chart, the more local consulting firms join the picture, making the competitive landscape for consulting industry more exciting.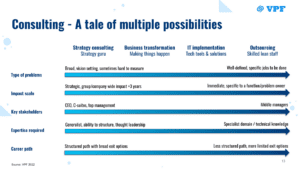 In another chart, Giao also brought up how different consulting firms can be categorized in terms of the type of problems solved, impact scale, key stakeholders, the expertise required, and career path.
In the second part of our event, we moved on to the individual parts of the three representatives the consulting sectors that we mentioned in the chart.
Thuy Le – Strategy/Management consulting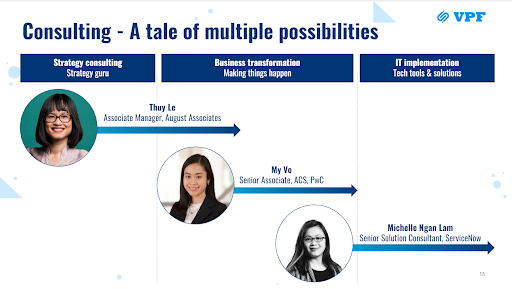 Thuy Le graduated from Aalto School of Business with a master's degree in information and Service Management, majoring in Business Analytics. She completed her bachelor's degree in international business in Lahti UAS. Thuy has been a consultant at the local management consulting firm August Associates for almost 5 years. August Associates is a local consulting firm that aims at delivering impact through best-fitting customer solutions. The problems typically solved by Thuy vary from strategy, transactions, transformation to organization and leadership, commercial excellence. 
Regarding career development opportunities, a strategy consulting career is well structured with a clear path from the analyst at entry level to partner at top level, who would lead people, manage clients, and drive firm strategy. Aside from this path, people who leave consulting at some points in their career also find diversified opportunities in different functions of corporate, i.e. strategy, finance, or business development, or public sector, or entrepreneurs, thanks for their wide exposure to different functions and types of problems solved in multiple consulting engagements.
My Vo – Advisory consulting for M&A
My Vo has worked as a Senior Consultant at Accounting Consulting Services department – PwC Finland since February 2019. She holds a master's degree in accounting from Hanken School of Economics. Prior to joining PwC Finland, My Vo has six years of working experience in auditing, management accounting and ERP transformation at KPMG, British International School, VNG and Novartis in Vietnam. Her intensive education and working background in Accounting naturally led her to current position as an active team member of Accounting Consulting Services department, which is a bridge between traditional assurance service line and advisory line of PwC. 
One of the most rewarding moments in her job, as My shared, is the moment she saw the deals finalized and announced in the media. People in accounting advisory either follow the traditional consulting path up to Partner in the consulting firm or leave for Assurance side of the public accounting firm, corporates' Financial reporting or FP&A departments or set up their own advisory firm.
Michelle Ngan Lam – IT consulting
Michelle Ngan Lam has more than 7 years in IT consulting and digital transformation. Holding bachelor's degree in international business from Arcada UAS and master's degree in Entrepreneurship and Innovation Management from Aalto University, Michelle started as a business developer in Documill nearly 7 years ago just to find herself switch to consulting by chance when she was offered with a position in consulting team. After 2 years working in Documill, Michelle worked as Business Consultant in Fluido, an Infosys company that provides with Salesforce solution from 2018 to September 2022. She just started her new position as Senior Solution consultant in ServiceNow, a product company that offers cloud-based platform and solutions. 
The problems dealt by Michelle are more specific and well-defined in comparison with problems solved by strategy consulting. IT consultants have multiple possibilities to advance their career either in consulting, industry, IT product company or entrepreneur.
Key takeaways from Panel discussion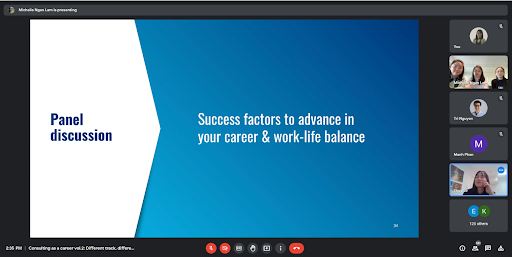 Giao led the discussion to cover the most popular concerns from audiences such as: 
Work-life balance

Success factors to advance in career, general advice for those who wish to enter or switch their track to consulting 

The things they wish they would have known when starting their career
At the end of the panel discussion, when sharing about what they wish they would have known before entering consulting, most of the speakers shared that they would be braver to apply to consulting without fear. My shared that she would love to learn more about interpersonal skills along with technical accounting knowledge, but it was never late to get you improved on these skills.
Final words:
We would like to extend our gratitude to our moderator and guest speakers Giao Le, Thuy Le, My Vo and Michelle Ngan Lam for their valuable sharings in our event as well as to more than 130 participants joining our event today. VPF always strives to bring even better events for our members to support their personal and professional development. We are looking forward to seeing you at our future events.