Developers meetup 2: How to success in DevOps/Cloud
"Have you ever questioned what DevOps is?
Have you ever thought that you would be a Cloud engineer in the future?
Are you looking for a full time job in Cloud technologies?"
If your answers are yes, then Developer meetup 2 is the event for you!
The event will give an introduction about Nordcloud Launchpad Program and how you can gain greater success through a better understanding and mastery over your DevOps career.
Besides of Launchpad program, we also introduce two speakers who are experts in DevOps/Cloud. These two experts will discuss with participants the most trending topics in DevOps engineering and introduce some new concepts for developers who are interested in developing their expertise in this field. Speakers' information will be released in the facebook group where VPF updates the newest information about the event.
We promise there will be something of interest for everyone!
Don't forget to register before Sunday, March 27th, 2022 !
Note: This event is FREE this time. However, there will be a limit on participation and the recording of this event will NOT be available. Other related materials will only be sent to the participants attending the offline session.
Stay tuned for more information!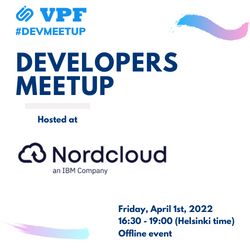 LOCATION
Nordccloud office
TIME
01.04.2022,
16.30-19.00
(Helsinki time)
REGISTER HERE